07 August 2020
Umtiza Forest Trail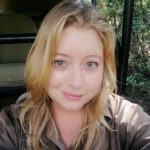 Hello everyone! Welcome back to another blog.
Have you ever felt the need to get out – out of your house, out of the city and away from the traffic with its head-throbbing cacophony of hooting cars all around you? Have you ever wanted to escape to a place where you can't smell the stench of exhaust fumes and factory smog?
Fortunately in South Africa there are quite a few small towns and cities where these inconveniences aren't quite so drastic but, regardless of where you live, if you are a nature lover the urge to "get away" will strike you fairly often. When the need to get in touch with nature hits, many people find escaping to Game Reserves (like ours), nature reserves or little trails off the beaten track is the only way to go.
One of my all-time favourite forest trails is the Umtiza Forest Trail here on Inkwenkwezi Private Game Reserve. Just like all the activities offered on the game reserve, the Umtiza Forest Trail is guided.
Unfortunately the last time I had the pleasure of taking guests on this beautiful trail was before the National Lockdown, so I have been walking the trail at least once a week by myself, enjoying the tranquillity and trying to identify a couple more birds and plants along the trail. As you can imagine, there are specific bird species that prefer to live in dense forests and walking the trail may be your only chance of seeing those specific species. (Narina Trogon, Knysna Turaco etc.)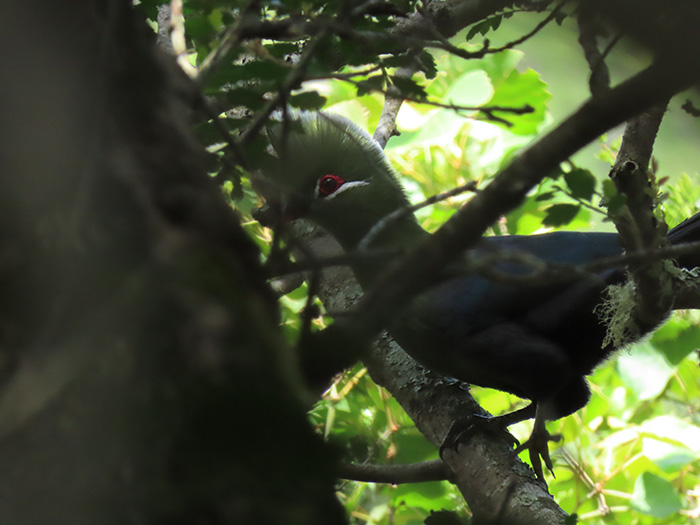 A short drive in an open Land Rover from the reception area of the reserve takes you to the starting point of the forest trail. From the parking area it is near impossible to see where you are going to start the trail which is great. The entire Forest Trail is comprised of natural animal paths that we have followed in a circular direction to lead you back to the road near to where you started. Using existing animal paths greatly reduces any negative impact on the environment.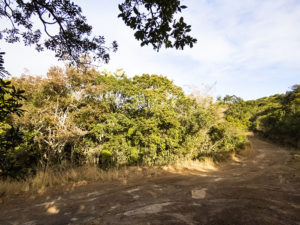 At the start of the trail you take a short walk along a rocky riverbed. Here you can see amazing and almost perfectly circular holes in the rocks. These circles are created by small stones with a higher density than the larger rock beneath it being caught in a certain spot and as the water flows and as time passes, the little stone rolls round and round eroding the larger rock. A very well-known example of this phenomenon in South Africa is Bourke's Luck Potholes.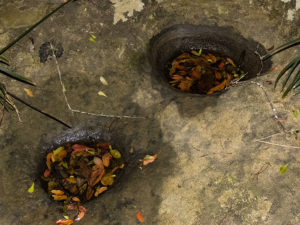 Here, in the riverbed, is one of my favourite places to stop and listen to the sounds around me, to listen to the deep call of the Narina Trogon echoing in the nearby ravine, to listen to the chattering of Weavers above me and the humming mating call of the Cicadas hidden in the trees and bushes nearby. To take a deep breath and smell the clean, crisp air. You can smell the earthy damp moss on nearby rocks and trees, the sweet smell of nearby flowering plants tickles the back of your nose and the faint smell of popcorn in the soft passing breeze from a Leopard marking their territory the night before. Closing your eyes, you are transported to another world entirely – a world with no technology, a world with no pollution, a world where you are one with nature. It honestly touches my soul.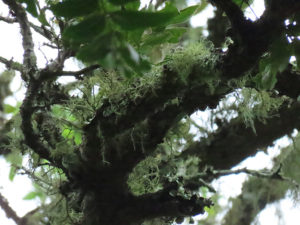 Taking note of the trees and plants close to the riverbed can be especially important should you ever find yourself lost in a forest and in need of a water supply.
One sure sign that you are close to a large water source, in this area of the Eastern Cape, is the Outeniqua Yellowwood Tree (Podocarpus falcatus). These water-loving trees usually grow in and around riverbeds. These beautiful trees are the tallest growing indigenous forest trees in South Africa, reaching heights of up to sixty meters tall! What I found to be incredibly interesting was the fact that the straight stems of the Yellowwood tree were used for the masts of ships. Bats, Bush Pigs and Cape Parrots are attracted to these trees as their ripe fruit is a firm favourite.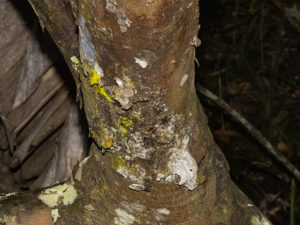 In South Africa we have three different species of Yellowwood trees, the Outeniqua Yellowwood (the only species found on Inkwenkwezi), the Henkel's Yellowwood (Podocarpus henkelii) and the Real Yellowwood (Podocarpus latifolius).
All three of the Yellowwood species are listed on the Protected Tree Species List under the National Forests Act of 1998, and as some of you may be aware, the Yellowwood tree is South Africa's national tree.
"No person may cut, disturb, damage or destroy any protected tree or possess, collect, remove, transport, export, purchase, sell, donate or in any other manner acquire or dispose of any protected tree or any forest product derived from a protected tree, except under a licence or exemption granted by the Minister to an applicant and subject to such period and conditions as may be stipulated."
Quite a mouthful I know, but basically, it's a law to protect various rare trees from extinction as they have been over utilised in the past and/or a lot of their natural habitat has been destroyed.
Taking a slow walk deeper into the forest it is wise to keep a sharp eye out for any flowering signs from our tree orchids. When they are not in bloom tree orchids can be difficult to spot – hidden in overhanging branches or perhaps right next to you or even nestled between some bark on the stem of a tree. Tree orchids are Epiphytes, meaning they grow on the surface of a plant and they acquire the moisture and nutrients they need from the air, rain and whatever debris accumulates around them. They do not cause harm to the plant they attach to at all.
Carefully climbing over some Forest Grape (Rhoicissus tomentosa) vines, the terrain begins to slope gently down to one side; you start to notice lots of flat, long, and fuzzy leaves growing in patches on the forest floor. These belong to a lovely little plant called a Cape primrose / Wild Gloxinia (Streptocarpus primulifolus). If you are lucky enough to walk the trail in our summer months, you may see some of their beautiful flowers – stunning, large trumpet-shaped flowers that are mostly purple in colour. This plant is a relief to see if you ever need to find your direction as they will only grow on the South / Southwest side of a shady slope.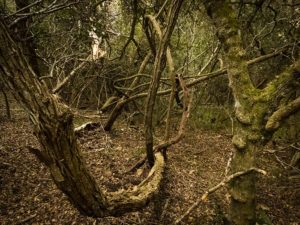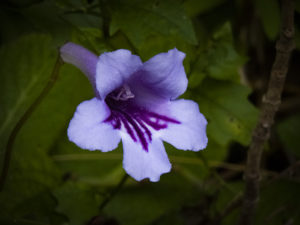 Looking down the slope you have a gorgeous view of the ravine below. You can see a couple more of the 'potholes' in the rocks when the river is low. I always keep an eye out for any dung/scat on the rocks as you often see Spotted Genet's – an extremely elusive nocturnal, cat-like animal – dung middens in the area.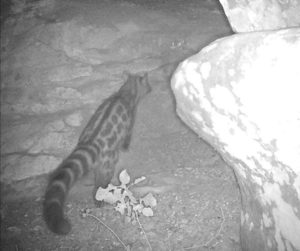 On the edges of the ravine there are plenty of Coastal Strelitzia (Strelitzia Nicolai), they are very similar in appearance to Banana trees however they are in a completely different family and don't bear any banana fruits. They are actually in the same family as the Bird of Paradise (Strelitzia reginae) and the flowers look very similar, however the plants grow much taller and the flowers are more pale yellow in colour (almost a creamy white) where the Bird of Paradise flower is a brilliant orange. Both plants are solely pollinated by birds and their sweet nectar attracts many sunbirds to the area when they are in flower.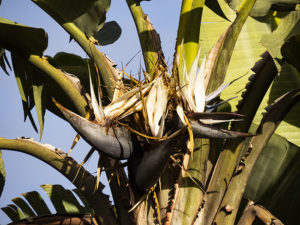 During the autumn months, in some areas, you will notice enticing small red fruits scattered over the forest floor. These mostly belong to a large evergreen tree called a Wild Plum (Harpephyllum caffrum). If I can give any of you an important word of advice, never eat fruits or berries that you find on the ground – only eat fruits and berries from bushes and trees that you can correctly and positively identify as being safe to eat and only if you pick it from the tree/bush yourself. This is incredibly important as many fruits look similar, but some may actually be deadly poisonous. Having said that, the fruits of the Wild Plum, however, are delicious! They taste quite sour at first, a bit like eating a packet of sour worm sweets, the taste grows on you. You can make divine jams and jellies from the fruits as well as a good rosé wine.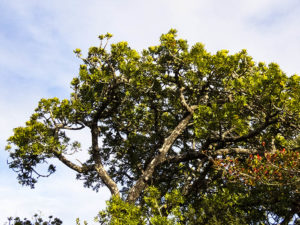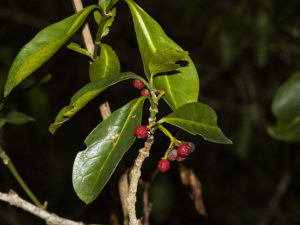 One of the trees on the Umtiza Forest Trail that really stands out for me, more so than any of the others because it looks a little unusual, is a Copperstem Corkwood tree (Commiphora harveyi). It is rare to actually see this tree with leaves and the bark of the tree looks like hundreds of thin pieces of paper are peeling away from it. Something I always offer my guests is to place their hand on the stem of the Corkwood tree, and then place that same hand on the stem of any other tree nearby, I then ask them to tell me what the difference is. Everyone always gets this correct as the Corkwood tree is incredibly cold to the touch compared to any other tree species and this is because the Corkwood holds an incredible amount of water in the stem. This makes it an important water source to some animals as corkwood trees also grow in very dry inhospitable environments.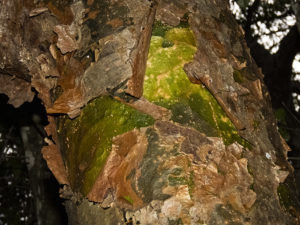 The resin of Corkwood trees has been very well known for its healing properties since ancient times. Certain species of Corkwood trees are responsible for the making of Myrrh and Balm. Myrrh, being one of the gifts presented to Christ by the Wise men and Balm, relating to the 'Balm of Gilead' which was used for its fragrance and healing properties.
At some point on the trail you come across the gorgeous Umtiza tree (Umtiza listeriana). This tree is incredibly rare being recorded in only six localities in the world historically and even some of those recorded sites are known to have since disappeared. The Umtiza Tree is mainly threatened from the expansion of human settlements. Three of the largest protected populations of the Umtiza tree are found at the Umtiza Nature Reserve in East London, Kirstenbosch National Botanical Gardens in Cape Town and here on Inkwenkwezi Private Game Reserve.
Traditionally this is a sacred tree to the Xhosa people as they will use it for protection against lightning and evil spirits, by hanging a piece of bark above their door. A stick can also be used as an effective healing wand.
Historically, the wood of an Umtiza tree was used to make the housing of propeller shafts in boats. The wood is incredibly hard and very oily, providing constant lubrication for the propeller shaft, resulting in the wood never having to be re-oiled.
Further along the trail is a magnificent Weeping Boerbean (Schotia brachypetala). This tree is renowned for its stunning, bright red, nectar-dripping flowers that attract many insects and nectar-feeding birds. Many years ago, in the time of the Boer War, the Boere used to collect the seed pods and roast them on the open fire, this provided them with a great high carbohydrate snack. The wood was also great to use for parts on their wagons, especially wagon beams.
I've recently noticed a family of bees have moved into one of the hollows in the tree trunk. This is fantastic as bees are quite endangered due to pesticides and habitat loss. I personally have to take a little bit of a detour around this area though in order to give the bees more space as I am highly allergic to bee stings!
Nearing the end of the trail we have a couple Stangeria Cycads (Stangeria eriopus) growing. This is unusual as this particular Cycad prefers to grow in open grassy areas, but it just shows that nature is unpredictable and always finds a way.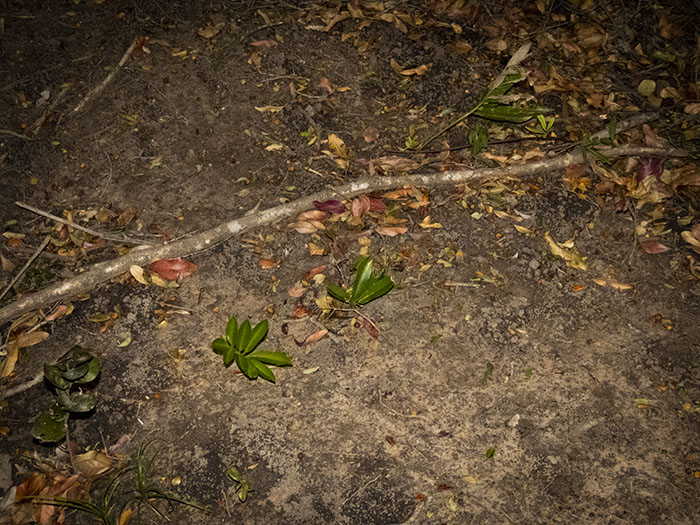 These Cycads are the food source to the caterpillar of an incredibly rare species of Cycad eating moth which were recently discovered by Quartus Grobler, Veniliodes setinata, and they have specific habitat requirements that need to be met in order to survive. They need open grasslands in which the Stangeria Cycad usually grow and they need plenty of herbaceous flowering plants in the nearby vicinity.
The Cycad moth lays its eggs on the leaves of the Stangeria Cycad, the eggs hatch and the caterpillars then bore into the leaves where they feed between the cuticles of the leaves. During this time, the caterpillars become toxic and inedible to predators due to ingesting the cycad toxin Macrozamin. The caterpillars will then move off into the open grass to begin feeding on the flower petals of various herbaceous plants. After about 6-8 weeks the caterpillars will dig into the soil where they will pupate. The adult moths will surface after a couple of weeks and the cycle will continue.
There are many more species of trees and plants throughout the trail that I haven't even mentioned here but that I may have spoken about in my Umtiza Forest Trail series on You Tube. For those of you who would like to know more please feel free to watch that series (there are 8 episodes, each between 5-10 minutes in duration) by clicking on the link below: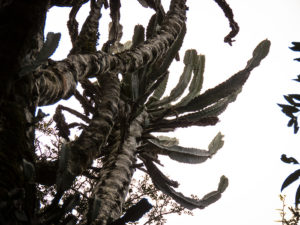 If there is one thing that I have learned, it's that you can never know everything. There are just so many species of trees and plants, their medicinal uses, bird species, mammals, insects, the list goes on. Nature truly humbles you when you start to realise how complex it actually is.
Thank you all for reading another blog! I look forward to sharing one again soon.
Keep well and remember to stay safe.
Warm regards,
Ranger Tammy