17 July 2020
Tracking Spoor and Animals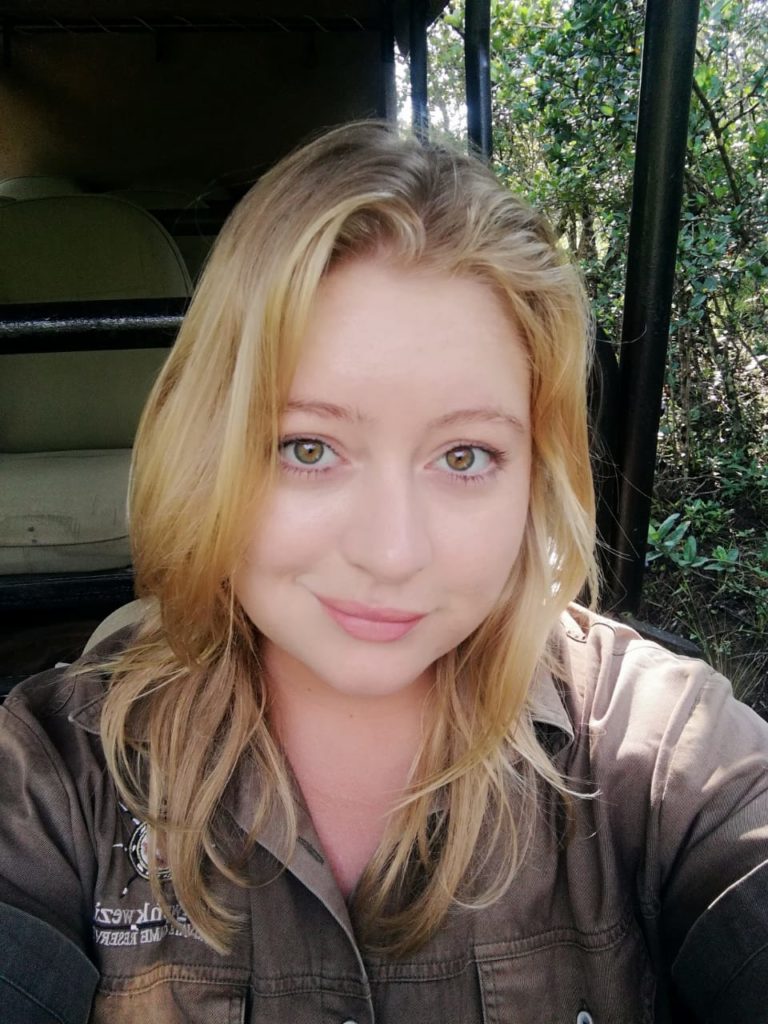 Hello everyone! Welcome back to another blog.
One of the many things that I enjoy doing on the reserve is tracking the animals. I like to challenge myself and I try to learn something new every day; be it a bird identification or call, the name of a tree/plant and one of their uses or even just teaching myself new tracks and signs left by animals.
I was quite excited to photograph and identify a little Neddicky (Cisticola fulvicapilla). These cute birds are quite common on the reserve in the grassy areas of the savannah and woodlands. I've noticed that whenever I photograph and identify a bird that I previously didn't know, all of a sudden I see them everywhere and I wonder how I never noticed them before.
Back to tracking . . . . when you hear about the tracking of animals you may think that all there is to it, is to follow a few spoor in order to locate an animal. (SPOOR noun: the track or scent of an animal. "they searched around the hut for a spoor") But there is so much more to it than that, there is an entire story behind every track and sign left behind in the bush.
Take something as simple as finding and following an animal path in the bush, be it in the open savannah or even in a dense forest, these animal paths generally lead to and from a water source – which can be so important for survival if you are ever lost in wild! It is important to study the animal path that you are following as the spoor will be going in both directions – towards and away from the water source – so you need to look at how broad the path is. Narrow paths will join up and become broader (almost like 'animal highways') the closer you get to a water source, so you know that if your path seems to be getting narrower then you need to turn around and follow it in the opposite direction to get to the water source. Whenever you are following an animal path you also need to keep an eye out for any potentially dangerous animals that could be in the area like buffalo or leopard etc.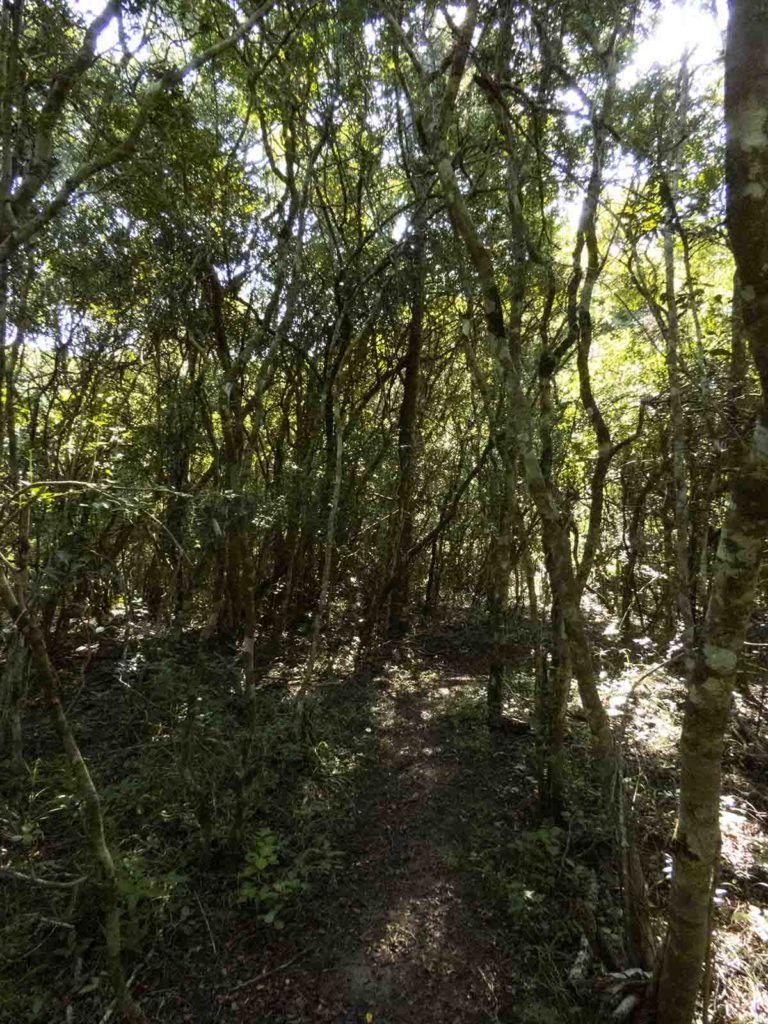 In the past it was essential for people to be skilled at tracking animals and being able to correctly identify plants, roots, and bulbs in order to survive. Without this knowledge they would have starved. In our modern time these skills are no longer necessary for survival so most people are unable to distinguish different tracks and signs – it is no longer essential knowledge.
I like to make it a personal mission to try and learn all these skills that have been mostly lost to us as modern humans over the years, not because I have to, but because I find it all so interesting and worthwhile to know. (I like to tell myself that I would be able to survive if I was put on a random deserted island somewhere with nothing but the clothes on my back, although I have to admit I'll at least need my lip-ice with me.)
But getting back to the topic, being able to correctly interpret animal tracks and signs in a specific area can tell you an interesting story.
For example, when I am choosing a spot to put up a trail camera on the reserve, I will look for an area that "tells a story".
I'm sure a lot of you are aware of the warthog burrow that we found on the reserve.
For those who haven't seen it yet take a look at our You Tube Channel – Inkwenkwezi Private Game Reserve https://www.youtube.com/channel/UC4Pc45oMl-pew2KNaFcY_OQ – I have made a couple 'Trail Camera' videos comprising of a slideshow of the photographs taken by the motion triggered Trail Camera and I've added some interesting facts on the captured footage.
The warthog burrow area has so many stories to tell – seeing the number of tracks going in, out and around the burrow; warthog, waterbuck, giraffe, buffalo, rhino, kudu, nyala, caracal, and porcupine just to name a few – tells me that this is an animal hotspot.
Next to the burrow are two termite mounds that are very well used as rubbing posts. I know this by looking at the termite mound itself – the shiny, smooth surface that almost looks polished is a giveaway sign of a commonly used rubbing post. If you look very closely you can actually see the ticks that have stuck onto the mounds together with the excess mud that the various animals (rhino, buffalo, warthog) have rubbed off after they have wallowed in the mud. (TICKS (Ixodida) are external parasites; they live by feeding on the blood of mammals, birds, and sometimes reptiles and amphibians. They are arachnids, typically 3 to 5 mm long, part of the superorder Parasitiformes.)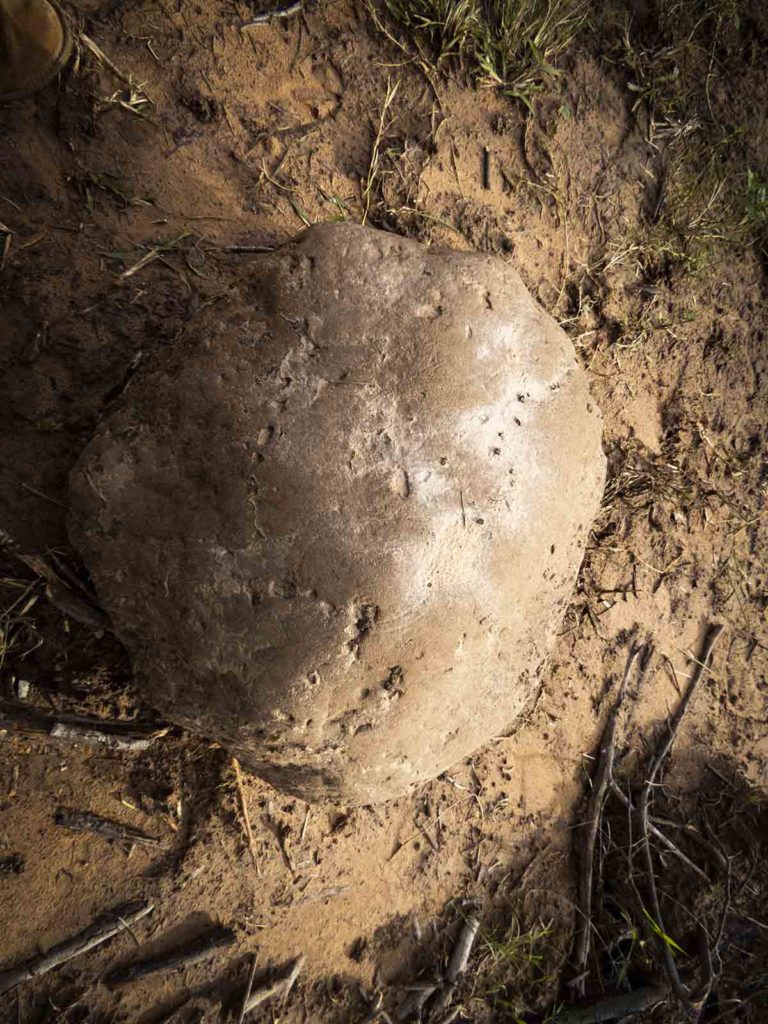 Mud wallowing is a remarkably effective way for animals to rid themselves of excess external parasites by suffocating them in thick mud until the parasites detach from the skin and the animal can then rub them and the excess mud off onto a rubbing post, be it a termite mound, a large rock or a tree. Mud wallowing also greatly protects an animals' skin from the sun's harsh rays and biting insects.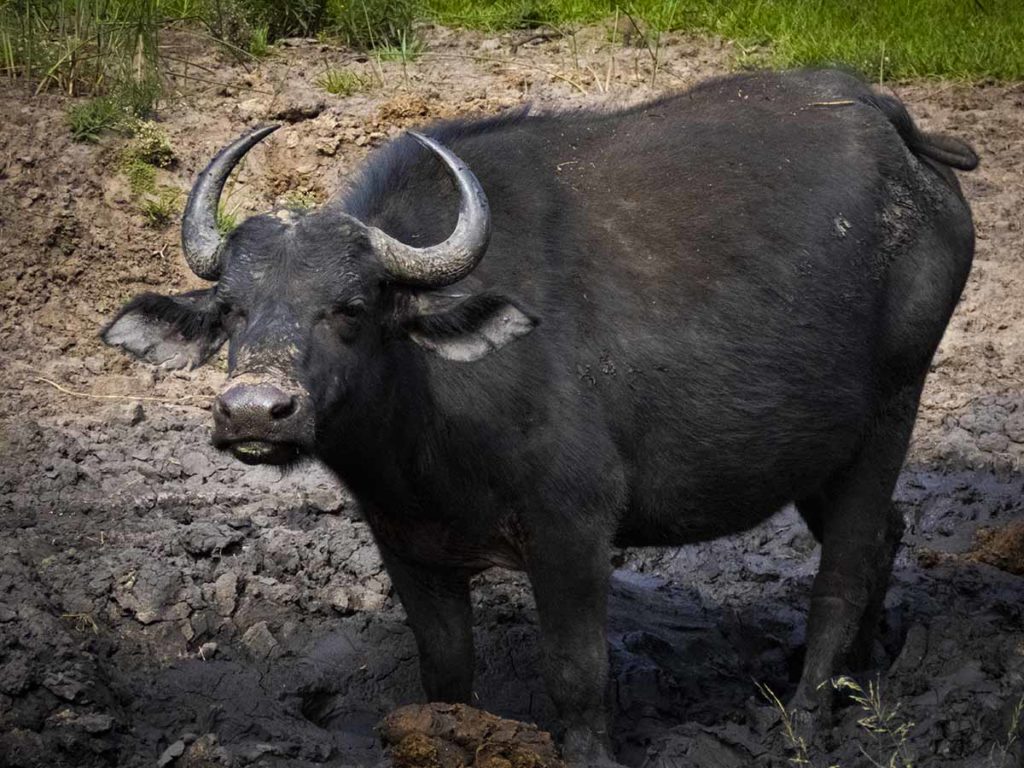 Over the last couple of days I have been studying various interesting tracks and signs that I'm going to share with you.
One of the most common tracks that you will see when driving through a sandy riverbed and muddy areas are those of the Cape Buffalo (Syncerus caffer). Buffalo prefer to spend their days in riverbeds, feeding on the luscious green grass close to the river. So, you will often see Buffalo spoor disappearing down riverbeds and along the sandy roads close to rivers, waterholes, or mud wallows.
Buffalo spoor (hoof prints) can be up to 120mm long per print. They are quite a distinctive track having an obvious 'split' between the two 'half-moon' toes. Their droppings, as you may wonder, really do look just like that of a domestic cow. Dung beetles are commonly found in and around buffalo dung, so be sure to drive around the dung if possible.
Another common track that you can expect to see, usually along roads in open areas, is of the Black-Backed Jackal (Canis mesomelas). Black-Backed Jackals are members of the canine family and their tracks are between 43mm and 54mm long and are actually quite elongated if you had to compare them to the track of a domestic dog. You will also notice distinct claw marks at the top of the track as no canine species retract their claws, like felines do. (With the exception of Cheetah (Acinonyx jubatus))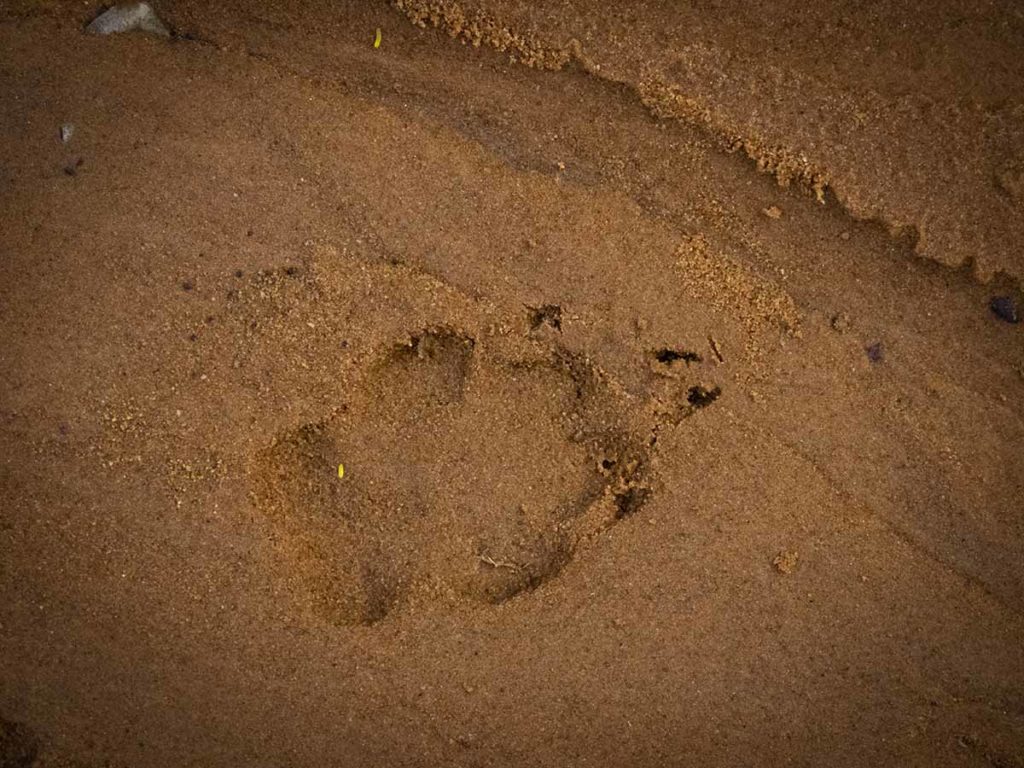 Another distinctive sign of a Black-Backed Jackal is they love to defecate on top of a termite mound, large rock or even on top of rhino dung. This is a territorial marking and defecating in a prominent place carries the scent further.
I was hiking along a riverbed, specifically looking for spoor to photograph and study, as riverbeds often have a high concentration of various track and signs, and I found quite a few interesting specimens.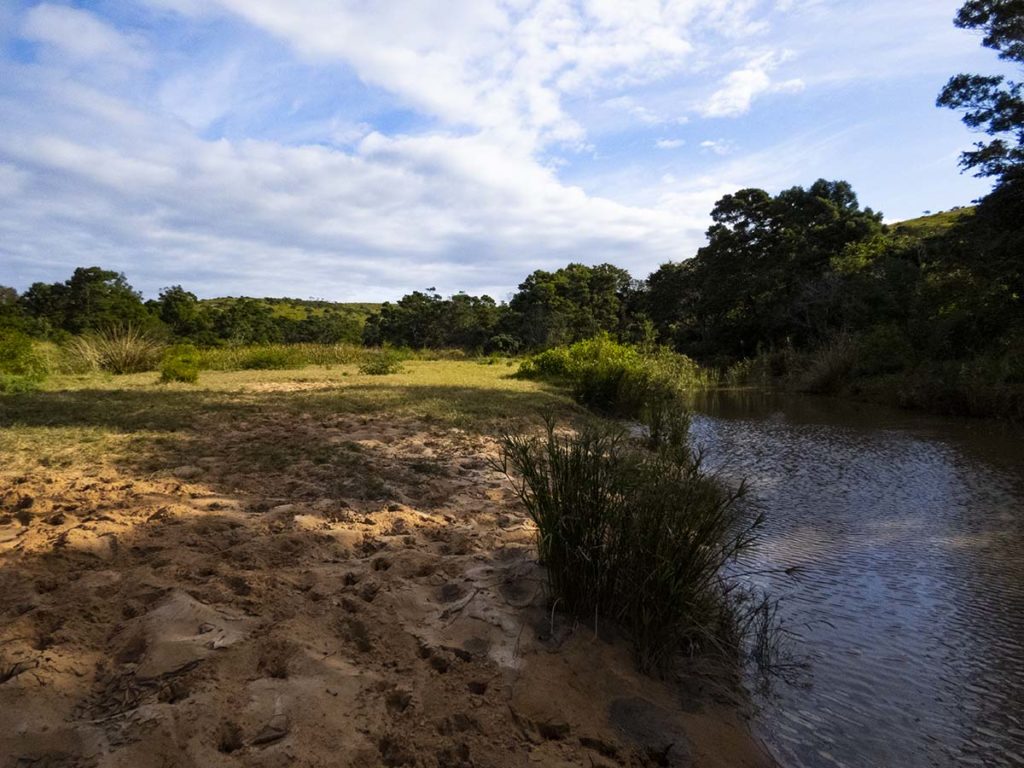 One of the most exciting being the spoor of a Cape Clawless Otter (Aonyx capensis). To be honest with you, I really did struggle to identify this spoor. With the spoor being between 70mm and 100mm long, at first I thought it might be Leopard spoor as it was the correct size and look similar. However, upon closer inspection I noticed the pads of the otter spoor are more loosely spaced than that of a leopards' spoor. I really didn't realise how big a Cape Clawless Otter actually is, growing up to 1.3m in length and weighing around 13kg.
Water Mongoose (Atilax paludinosus) spoor is almost a given to find in and around riverbeds. Their tracks are between 36mm and 46mm long and what is quite distinctive about their spoor is that their toes are exceptionally long and widely spread. This makes it easy for identification. Something fun to look out for as well is crab remains. A water mongoose never fully eats a crab, it always leaves large pieces behind. An otter on the other hand will eat the entire crab, leaving nothing behind. Both the mongoose and the otter dig crabs out of their burrows in the sand close to a water source.
Another interesting find was the tracks of a Water Monitor Lizard (Varanus niloticus) otherwise known as a 'Leguaan'. What is so unique about these tracks is the distinctive tail drag mark between the left and right spoor. You can also clearly see the claw marks that are left behind in the wet sand.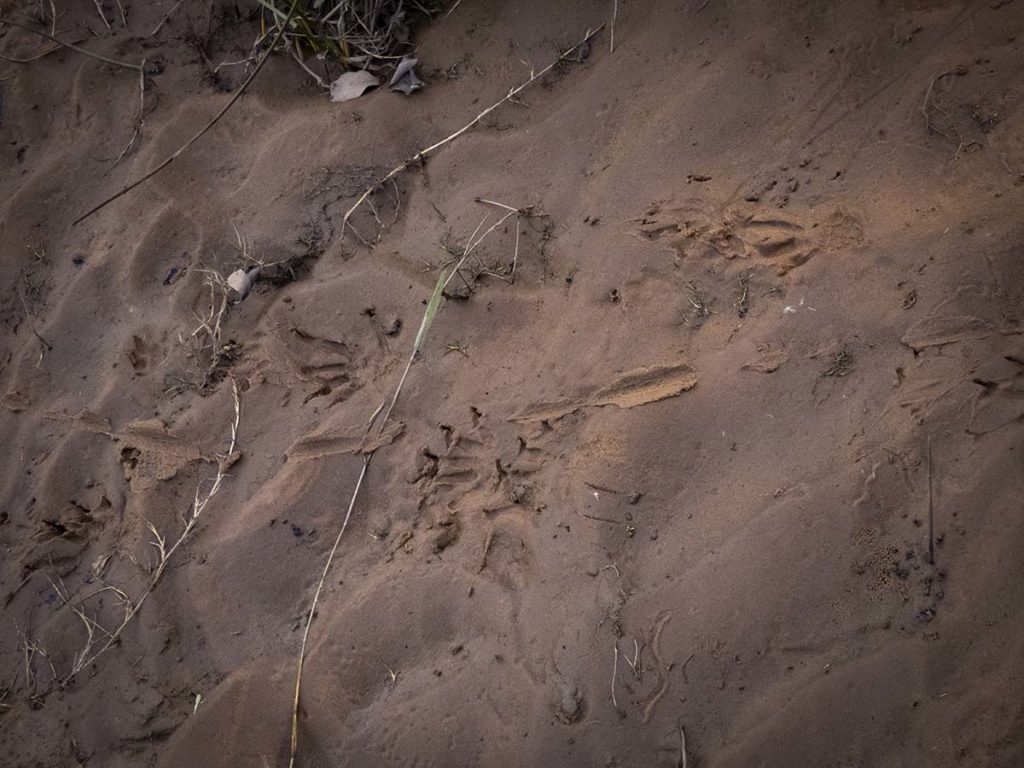 There was a lot of Impala (Aepyceros melampus) spoor in the area as well. Their spoor is between 44mm and 52mm long and is a common track seen in all areas of most game reserves in South Africa. Because Impala are almost always in a herd, you will usually find quite a few tracks moving together in the same direction.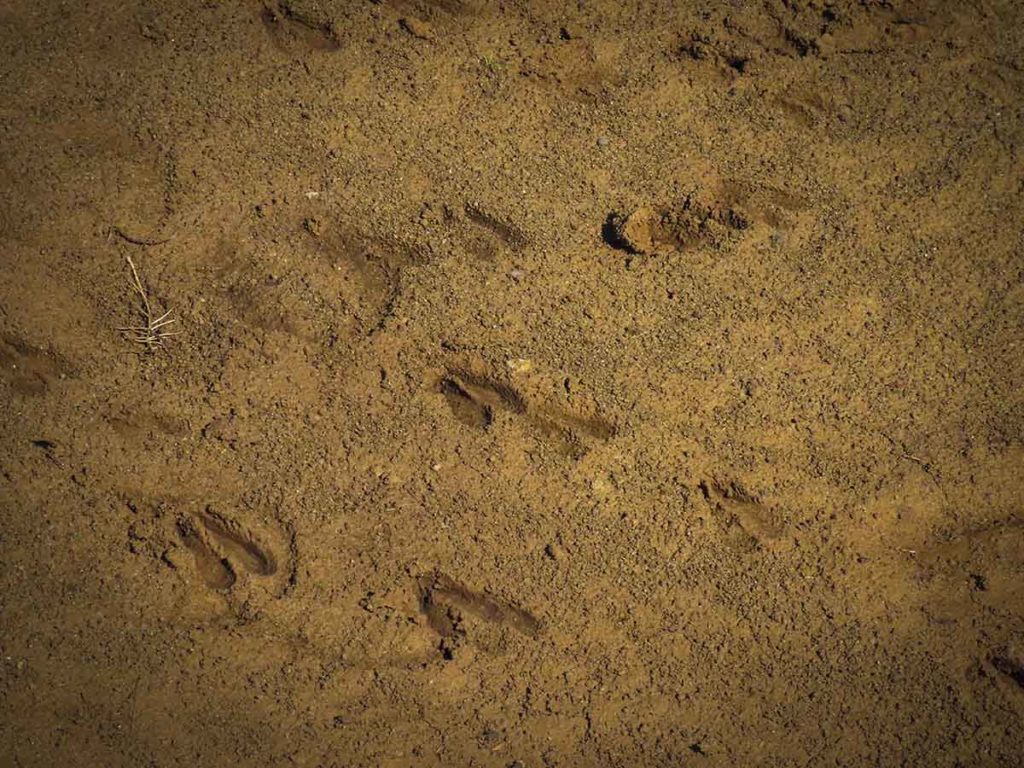 I realised I was getting a little too engrossed in photographing the tracks I had discovered when I heard the warning call of an African Warthog (Phacochoerus africanus) coming from somewhere a little way behind me. I turned to discover that a mother warthog had brought her piglets for a drink and she wasn't very happy discovering that I was in the way! So, with one last quick photo of a Vervet Monkey track, I backed up and hopped back onto my Land Rover and drove off to find a safer spot for me to continue my search for spoor!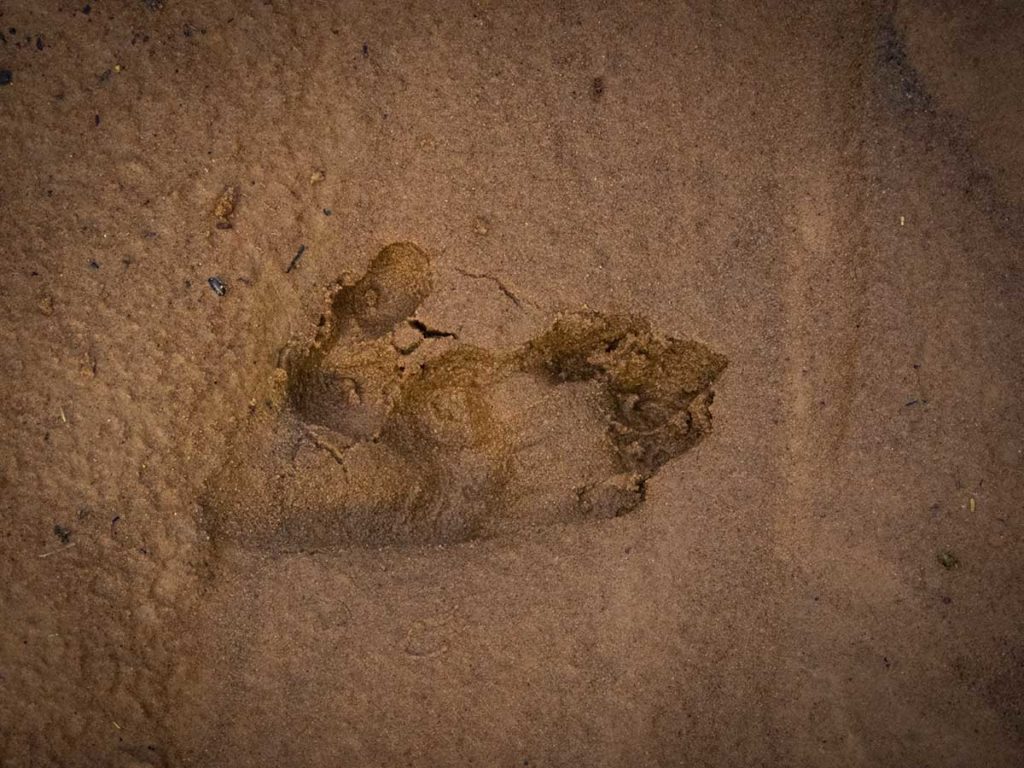 I headed out to some open plains and decided that it was as good a time as any to head down towards a drainage line where there was a tree that I have been promising myself for ages that I was going to identify.
When I got to the tree (which I immediately recognised as a Waterberry Tree (Syzygium cordatum) as I got closer) I was absolutely ecstatic to see some old territorial scratch marks in the base of the tree from a Leopard (Panthera pardus).
I took lots of photos of the scratch marks and not so much of the tree itself, so I do apologise.
Upon doing a little further research, it turns out that Leopards prefer using a Waterberry tree for their territorial marking over any other type of tree that may be close by. Unfortunately, there is no specific reason listed as to why. I can only imagine that it may have something to do with the density and hardness of the wood that they may prefer, but who knows?
So, of course, a few days later I dragged Willem with me to show him the Leopard territorial scratch marks and then convinced him that we needed to explore further down, into the dense bush of the drainage line, to see if there may be any fresh tracks in the riverbed or any more trees with some fresh scratch marks on them. (Something that no-one should ever do alone as you could end up face-to-face with a wild Leopard!) Unfortunately, we didn't find any fresh tracks or signs of Leopard in the area that we walked in however we did find some Caracal (Caracal caracal) spoor, which is just as exciting! Their spoor is between 45mm and 55mm long, so it is a relatively small track.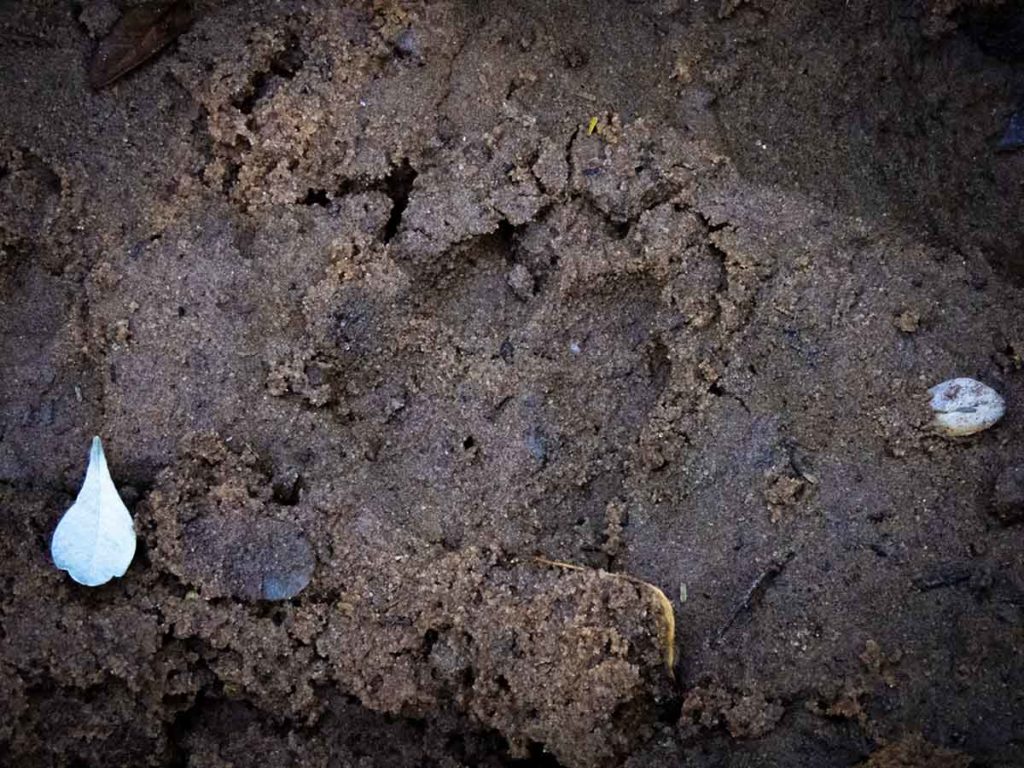 We decided to leave the drainage line as it was very dense and difficult to see if there were any potentially dangerous animals around us. We hiked back up the hill to the Land Rover and drove around on the reserve, taking a few photographs of various animals and birds that we saw.
While we were exploring we spotted a cave located just above the Kwelera River – the river that runs through a section of the reserve. With no roads that lead anywhere close to the cave I had to rely on the 65x optical zoom of my camera to get a closer look. (Definitely on my bucket list to hike up to the cave and set up a trail camera to see if there is any Leopard activity there.)
The Leopard in our area are more likely to be cave dwelling leopard, not the type that would laze around in large open areas at the top of a tree. They tend to be a lot more secretive and are quick to hide away in thick bush when they spot you. Which makes photographing them incredibly challenging. You always need your camera at the ready, because when you least expect it you will have a perfect – but exceptionally brief – photographic opportunity.
A couple of days ago I saw something quite interesting in a riverbed. There were a couple long trails along the surface of the soil belonging to giant earthworms (Microchaetus skeadi). I was truly fortunate to see one and took a photo with my boot (size 8) next to it for a size comparison.
After doing some research on giant earthworms on the internet, apparently South Africa has the largest giant earthworm ever found which was nearly 7 meters long! This was found next to a road in King William's Town in 1967. These earthworms apparently show a preference to the Eastern Cape and the Karoo. Preferring to stay about half a meter underground, they are something to look out for when it rains!
Before I make this article too long, I will leave you all with a spoor to identify!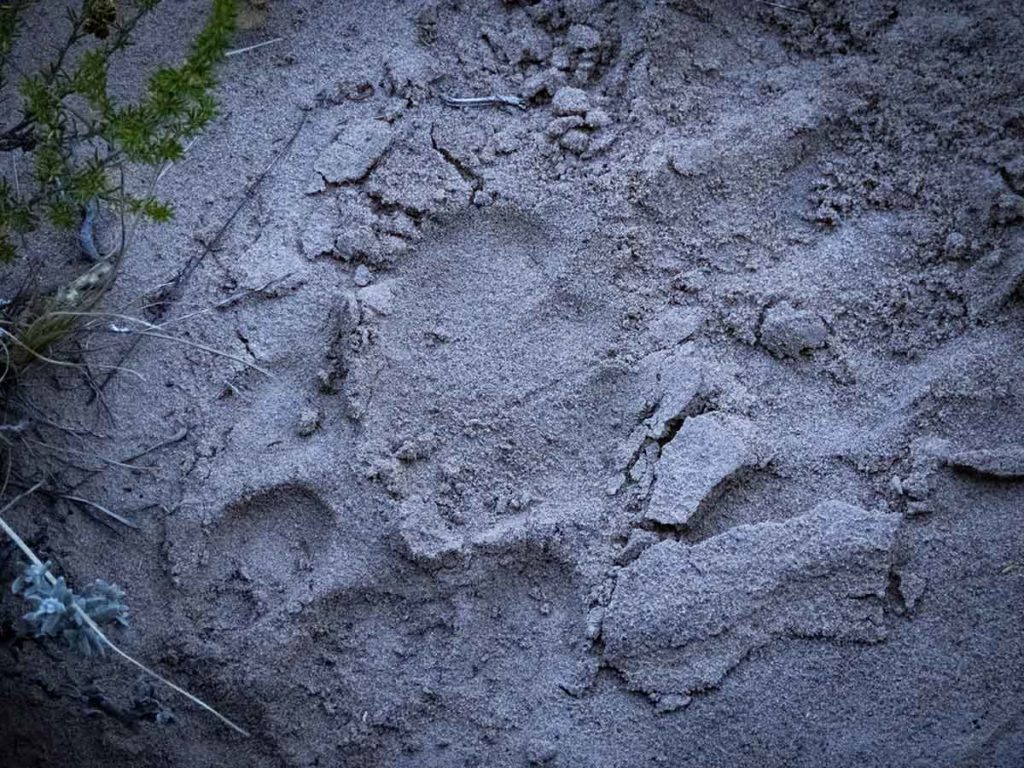 (I'll give you guys a bit of hint; this track belongs to an incredibly rare predator that we have on our reserve.)
Please feel free to give your thoughts and ideas on the track in the comments section on our Facebook page.
Thank you all for reading another one of my blogs, remember to stay safe and keep your eyes peeled for another exciting blog soon.
Warm regards
Ranger Tammy