22 June 2020
Self-Drive Adventures
Hi everyone!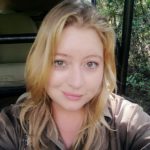 So much has been going on at Inkwenkwezi Private Game Reserve since my last blog – which I can hardly believe was just over a week ago!
For those of you who don't already know, our President announced that Game Reserves could open to the public BUT for self drive game drives only. At first we were a little concerned by this because at Inkwenkwezi our roads range from 4×4 to extreme 4×4. This does not usually pose any problems because our game drives are guided and all of our guides are proficient in 4×4 driving but how could we offer this activity as a self drive safari option to the public.
After a brain-storming session we decided to offer the self drive safari tour to people who have access to, and can drive, a 4×4 vehicle – a combination of a 4×4 route and a game drive – AND for those of you who are able to drive a 4×4 but don't have access to one we have a 4×4 vehicle that can be rented for the duration of the Game Drive – what could be better.
The way it works is that I lead the way in my Land Rover and the guests follow in their own 4×4 vehicles. I am in constant communication with the guests via radio and can then give them information on our animal sightings and provide a few tips and tricks with regards to navigating the 4×4 route – it is essentially a GUIDED SELF DRIVE GAME DRIVE SAFARI (quite a mouthful)!
Anyway, let me tell you, it has been a blast!
The first drive that I led had two vehicles booked to go out; two families who turned out to be incredibly good friends, which made it even more exciting.
As I handed out the walkie-talkie radios to each family, gave them a briefing on how to work the radios and explained a little 4×4 etiquette I couldn't help but smile to myself; I was finding it hard to try and contain my own excitement at taking out our first guests – even though the guests couldn't be on the Land Rover with me I was excited to at least be able to point out sightings and talk about the animals to them over the radios.
And, to be honest, secretly I was also excited to see how my guests would do driving on our 4×4 roads!
Once we started the drive I was glad that my guests were warm and cosy in their vehicles as it was extremely windy and cold outside (I must admit the open Land Rover was a little cool!). The weather definitely made it a challenge to spot animals as they also tend to hide themselves away in warm spots in the bushes and valleys when it is cold.
We spotted some giraffe up on a hill quite far from us and headed off towards the area to get a closer look. The giraffe weren't there when we arrived, they had obviously decided to find a warmer place to relax. So we continued on our 4×4 adventure and went in search of some other animals, even following a few fresh buffalo tracks which unfortunately trailed off down the river.
Undeterred we continued through the valleys and headed out onto the open plains where we were greeted with a magnificent sighting of a large breeding herd of Impala, some Wildebeest and Zebra all grazing in the same area. In the distance there were two male Ostrich heading over the hill away from us and a few Nyala, who made a hasty retreat into nearby bushes as soon as they spotted us.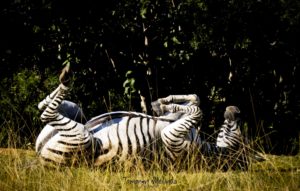 On a side note I would like to mention that the animals are used to, and comfortable with, seeing and hearing our reserve Land Rovers so when they see a strange vehicle with a strange sound a lot of them run for the hills. Luckily, we have discovered that a slow and relaxed approach towards them limits this from happening and, as the drives are becoming more and more frequent, the animals are quickly getting comfortable with other vehicles driving around.
After spending some time enjoying our sighting I led my guests along a road that trails around the top of a hill, boasting some breathtaking views. It was along this road that we had the absolute pleasure of spotting a small group of Mountain Reedbuck! Now, this is an incredibly rare sighting because Mountain Reedbuck love to hide away in the grass as much as possible when they see you, even flattening their ears so as to not give their position away.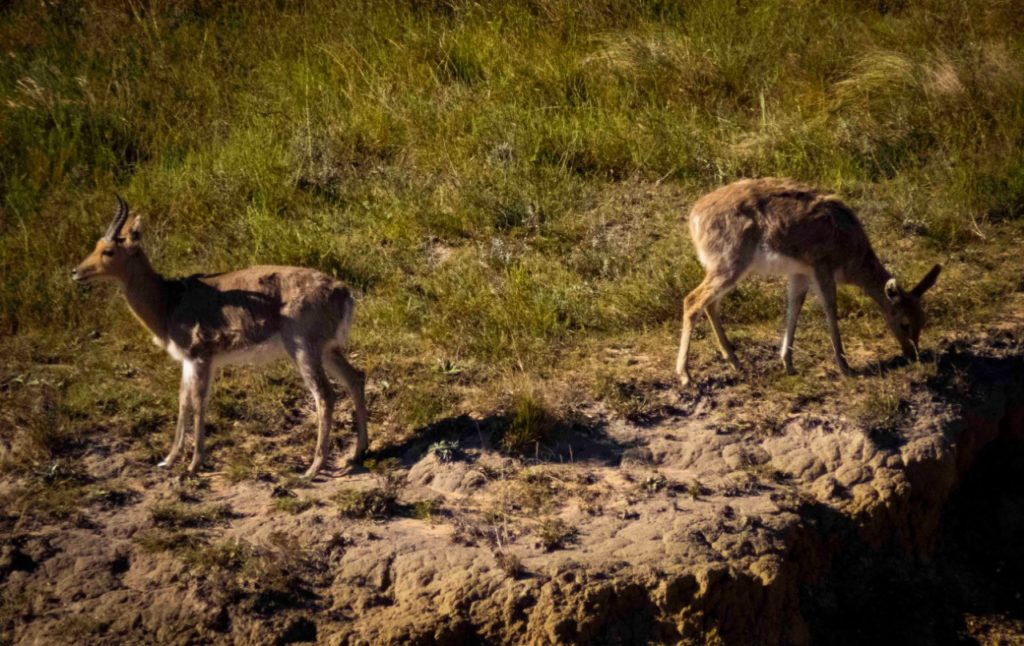 Mountain Reedbuck (Redunca fulvorufula) are actually monogamous, meaning they will only have one mate during mating season however, you do occasionally see small herds of less than six individuals together, usually with one dominant male and maybe two or three females. Young males may be tolerated for a short time in the herd. At this sighting we saw one male and three females.
We stopped at a picturesque lookout point so that everyone could get out of their vehicles and stretch their legs a bit, have something to drink and a couple of snacks before we prepared to enter the lion reserve. After a much-needed break from being tossed around in the vehicles on the 4×4 trails and a quick safety briefing it was time to go and look for the lions.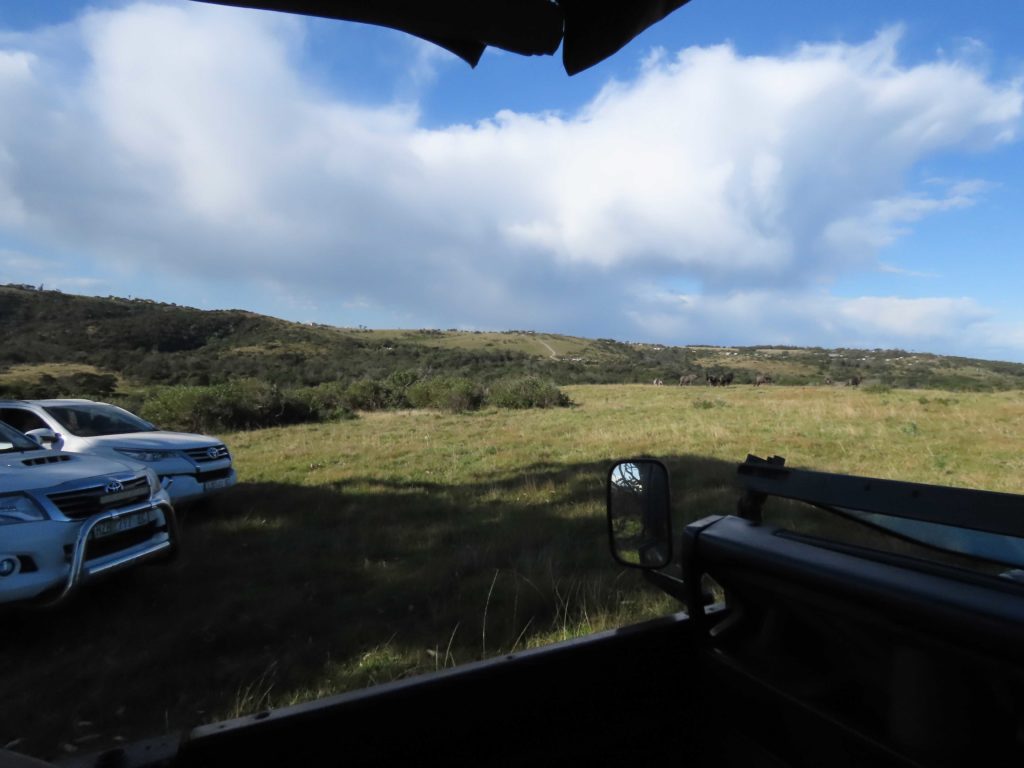 As the vehicles lined up at the entrance to the lion reserve and I climbed out of my vehicle to open the two large metal gates I looked back and smiled at the children's wide eyes and the excitement that I could feel radiating from the vehicles. After all the vehicles were inside the lion reserve and the gates were closed I climbed back into my vehicle and started a slow drive, with my guests' vehicles following close behind, in search of the lions.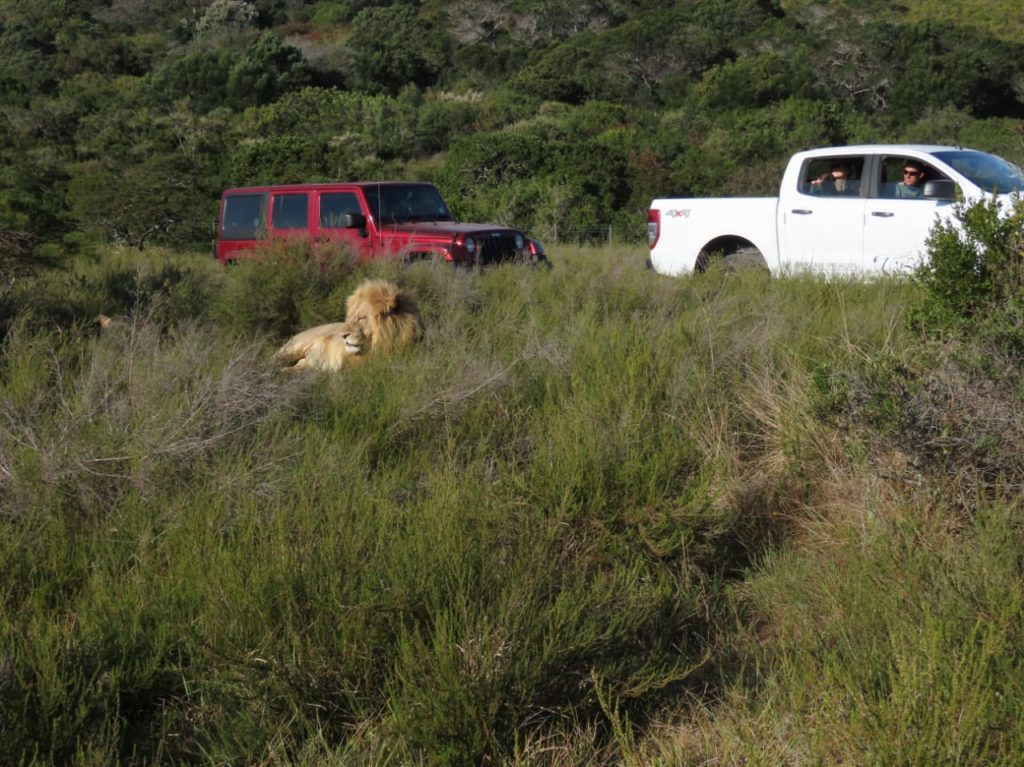 We hadn't been driving for long when I turned a corner and caught a magnificent view of one of our beautiful adult males, a female at his side, the afternoon sun shining through his mane from behind. It was such a remarkable sight – one that every ranger, who loves photography, dreams of!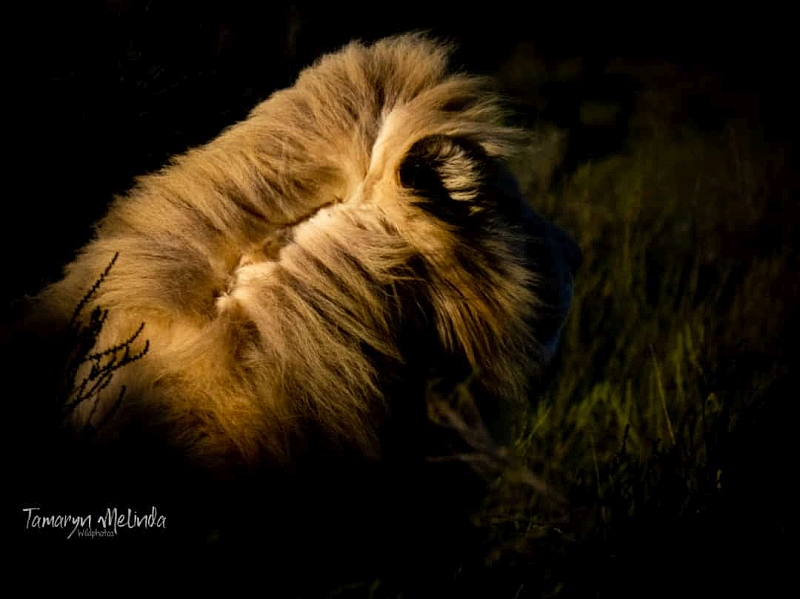 After a quick scan of the area I spotted two sub-adult males down the hill on my left and a couple of females scattered around.
The lions generally, like the other animals, are so used to seeing our reserve Land Rovers that they barely lift their head to have a look at the vehicle driving through the lion reserve however, unlike some of the other animals that had decided it was best to run off from the strange new vehicles, the lions acted just like any other cat and took it upon themselves to thoroughly investigate the situation – causing a few of my guests to squirm in their seats. As soon as the first vehicle, following behind me, came into view the two sub-adult males at the bottom of the hill immediately started trotting up the hill – completely relaxed, whiskers pushed forward and ears up in curiosity.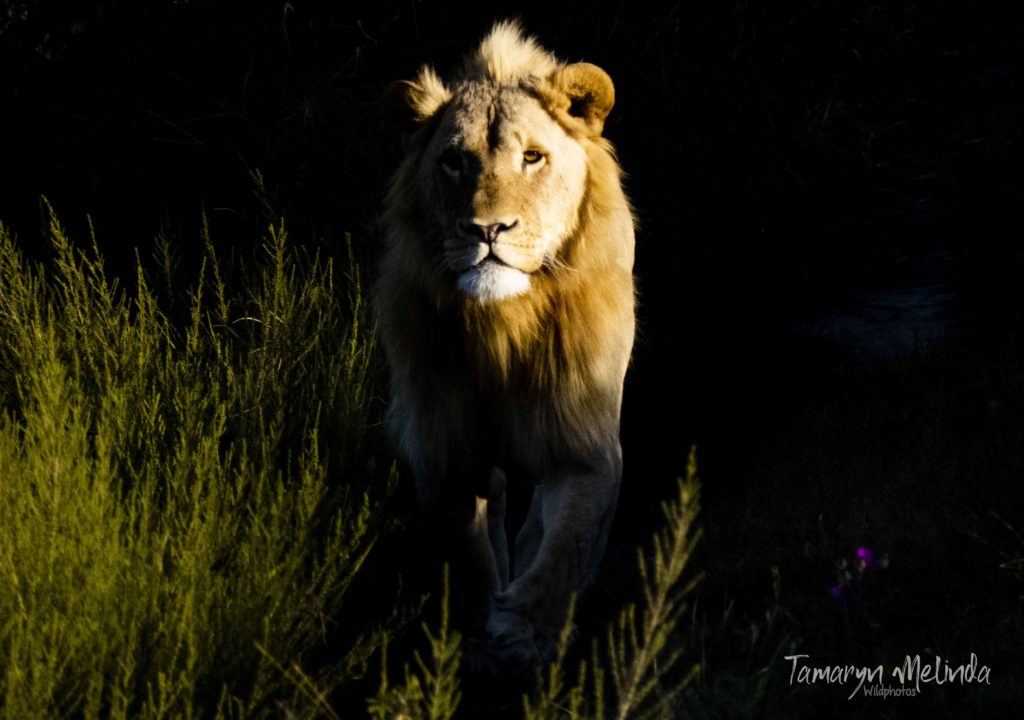 After assuring my guests that they were completely safe they managed to get some superb photographs of the pride. The lighting was perfect, I asked my guests if they would like to approach from a different angle, to get the sun behind us and possibly get some better photos, they quickly agreed and we proceeded around the pride to get a better view and as if our luck couldn't get any better – we got an absolutely stunning view of some of the cubs. This particular litter is almost a year old.
We all got some striking photos of the lions yawning, just like any cat species they sleep up to twenty hours of their day.
As the pride became more active for the evening we took a slow drive back to the gates of the lion reserve and left, with huge smiles on our faces.
I then led my guests up to the highest point on our reserve to take some photographs of the sun setting over the open plains. The view that greeted us made us feel like we had just driven into a wildlife documentary! In the distance a herd of Zebra were galloping away while the sunlight highlighted the dust being kicked up by their hooves and a huge herd of Blesbok all staring at us in unison. It was just amazing!
At this point we all felt more than content with our game drive sightings and the photographs we'd managed to capture, confident that we simply couldn't top this. But little did we know! We turned a corner and had the most wonderful sighting of a mother giraffe and her calf! Turned the next corner and had a stunning sighting of a small herd of buffalo, with a young calf! I mean what are the chances?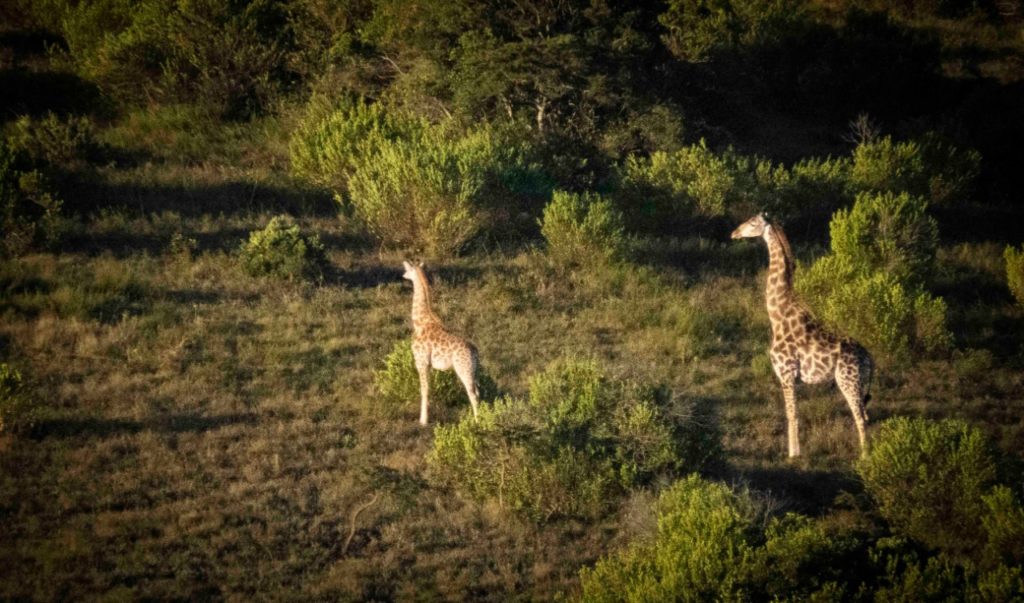 After a classic stare down with the mother of the buffalo calf we decided it was best to move on from the sighting and leave the herd to continue grazing in peace.
As we headed up the last hill to our reception area we had the most exquisite view of the sun setting beyond the clouds, a perfect end to a perfect day.
The 4×4 self drive game drives have turned out to be incredibly exciting and I am thoroughly enjoying leading them.
A huge thank you to everyone who has already been on one of our self drive safari tours, we hope to see you again soon, and if you haven't booked already – I would highly recommend it!
Keep well everyone and remember to stay safe!
Warm regards
Ranger Tammy